Wiiware "Learning with the PooYoos" game review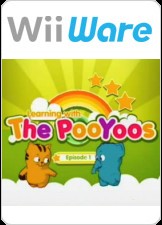 I have 2 children 4 and 6. They love the Wii but I havent really seen many games suitable for young children yet. This game "Learning with the PooYoos" does fit the bill. Its downloadable via the Wiiware system and priced very well at 500 Wii points. When starting the game there are 2 options based on a childs age, I would say a 2 year old could handle the easier level with a little guidance and a 4 year old the same with the harder level.
The games themselves are very simple, matching shapes in clouds, popping balloons, dancing (theres lots of dancing and waving the wiimote). Theres not a lot of difference between the 2 difficulty levels really. The game presents in 4:3 mode which means it wont fill the entire screen of a widescreen TV which is disappointing. The graphics though are very bright and well done, its all animated and well voiced over.
My kids enjoyed "Learning with the PooYoos" and at 500 wiipoints its a fun afternoon for them to try something new. Id like to see Nintendo do more for the young children, the Wii offers quite an opportunity to present a variety of learning games for young children because of its simple control scheme.